We recognize that all of our patients are unique and deserve to receive dental care that reflects their individual needs. Our experienced and talented dental team is committed to working with you and your family to create a comfortable, stress-free, and rewarding dental experience every time you visit our practice.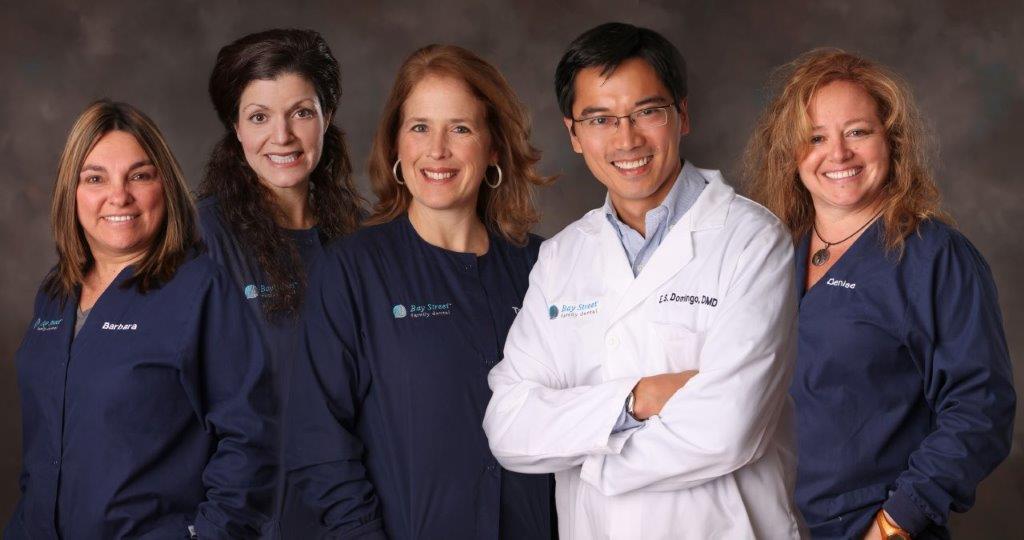 We are pleased to welcome you and your family, and we look forward to working with you.
---
Barbara
Barbara is the first friendly voice you'll hear on the phone and the smiling face you'll see behind the front desk each time you come into our office. She embodies the care you'll receive as you are escorted to absolute certainty that you're in the right place.
In fact, it's so clearly the right place that Barbara has been working at Bay Street Family Dental for nearly 30 years! She's excited that the office has started a No-Cavity Kids Club and welcomes your family to join Dr. Domingo and the rest of the team in celebrating great oral health.
If that's not enough, swing by and ask about the drawings for special prizes that all patients can participate in! Barbara considers her patients a part of her family and loves talking with them and making sure they feel cared for. As you get to know Barbara, you can't help but note her enthusiasm and great compassion.
When not at the office, Barbara enjoys spending time with her husband Paul, their son Bryan, her daugter-in-law Mollie, and her two grandchildren, Walter and Edith. It's safe to say Barb loves being a Mimi! She also loves to go camping and most weekends this is where she and her husband can be found enjoying all NH has to offer. For quiet time, you can find Barbara deep in her latest book.
Denise
Your registered dental assistant, Denise brings her wit and engaging style to each patient's experience. Focused on bettering each person's life through a unique dental visit, Denise will enhance your comfort by sharing a smile. She attends to details while assisting Dr. Domingo for your enhanced care. Happy to help you relax, Denise welcomes the opportunity to set you at ease.
Maintaining a "green" household, Denise looks after an Italian mastiff, a chocolate lab, and a chihuahua,and several free range chickens, along with her husband Jon. She is an avid quilter, dabbles in making stained glass, loves traveling and riding motorcycles with Jon. Family time is very important, especially now that there are 3 handsome grandsons to spoil.
Mary
As a registered dental hygienist in the practice, Mary brings two decades of experience. With a warm smile and comfortable manner, Mary excels at connecting with our patients. She loves that her work lets her really get to know each person, as they share stories about their lives, families, and hobbies.
As a dental hygienist, Mary spends her days working one-on-one with our patients. She prides herself on listening to her patients, truly interested in each person's concerns, needs and wants. Mary epitomizes the vision of the practice by building relationships with our patients and providing personalized care. A patient's healthy teeth, gums, and beautiful smile make her smile because she knows she's made a difference.
During her time off, Mary loves exploring New England with her husband, Randy, and their triplets Emmett, Wyatt, and Zoe. They especially enjoy outdoor activities, camping hiking, biking, skiing, no matter the season they are outside and active!
Tanya
Working alongside Barbara at our front desk is Tanya. Her priority is to greet patients, make them feel comfortable, and assist in making their dental care a breeze. While interacting with our wonderful group of patients never fails to bring a smile to Tanya's face, her favorite aspect of her job is working alongside her husband, Dr. Domingo, and our great team.
When she's not at the office, Tanya is either busy with her two small children, Lukas and Amelia, and dog, Sam, attending graduate school in psychology, or spending time outdoors. Whenever possible, she and Dr. Domingo like to sneak in a date night at one of Manchester's great restaurants.